Custom Log Home Builders Wisconsin
New Homes >> Log Homes
Log Homes
---
Photos
---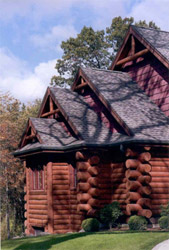 C. Weber has a strong interest in log homes. Our exceptional attention to detail has gained us a very highly regarded reputation for beautiful log homes and a feature in Country's Best Log Homes September 2008 issue.
We built our own custom one-of-a-kind log home, and use it as a model showcasing the many options a hybrid log home possesses.
There are endless ways a Walworth County log home can be designed, and we catch the same excitement you do when your visions start to form into a reality. There are no limits to the potential of your custom log home. Take a look at some completed custom log homes in Southeastern Wisconsin, and start envisioning your endless possibilities.
Serving all Walworth County and the surrounding areas including – Lake Geneva – Elkhorn – East Troy – Lake Beulah – William's Bay – Whitewater – Delavan – Fontana – Lyons – Mukwonago – AND MORE!
Contact your Walworth County contractor at 608.883.6600 or online today for more information and to start the building process of your dream conventional or log home.