Luxury Custom Home Builders Walworth County
Dedicated to Midwest Homebuilding for Over Two Decades!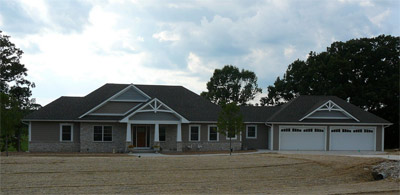 C. Weber Builders Inc. is your Wisconsin Licensed, Walworth County home construction company. We specialize in the custom creation of new homes, and custom home renovations. We will accommodate your specific home needs from a simple window or door replacement to a budget-friendly starter home to a full custom Walworth County lake home. Your home should be a reflection of who you are, and we are here to make that happen for you. We're the difference between a house and a home.
Get to Know Your Top Walworth County Home Builder – Cal Weber
Cal Weber has been in the home construction trade for over two decades. Fresh after high school graduation, Cal went to work for a lumberyard loading and delivering home construction materials to local area home builders. It was there that he began to learn and understand the necessity of selecting top quality materials and the timeline in which all home building materials would be needed. After only a year, he knew he wanted to build homes. Cal Weber worked for three builders over the next 5 years, with the goals and aspirations to embark on his own professional Walworth County home building journey. In 1994 Cal started his own home improvement business. As time has passed, Cal has gained vast amounts of knowledge, experience, and a continually building dedication to building dream homes. Starting with simple remodeling projects and building up to complete custom Walworth County home design and construction, Cal has truly devoted himself to the industry. Even though C. Weber Builders Inc. has grown, Cal and Kathy Weber have always maintained complete commitment to personal service and extra special attention to detail. Every home deserves the same dedication, and C. Weber Builders Inc. strives to ensure your dreams for your home come to life.
By choosing C. Weber Builders, you are choosing long term value. Cal Weber works closely with each and every customer to make sure you not only enjoy the build process, but also receive the results you deserve, and customized design you desire. Your home will be built exactly how you wish, and will be done with quality craftsmanship, care, and attention to detail, ensuring you will have an asset to enjoy for years to come as your home investment appreciates in value. Choosing a home builder based on price alone will rarely result in a successful project. Low quality home builds are frustrating, and C. Weber Builders Inc. promise to never put you through that hassle.
Cal and his wife Kathy are dedicated to home building and want to help you achieve that goal of THEE PERFECT HOME.
Serving all Walworth County and the surrounding areas including – Lake Geneva – Elkhorn – East Troy – Lake Beulah – William's Bay – Whitewater – Delavan – Fontana – Lyons – Mukwonago – AND MORE!
Contact your Walworth County contractor at 608.883.6600 or online today for more information and to start the building process of your dream conventional or log home.